Exsulite Installers Notice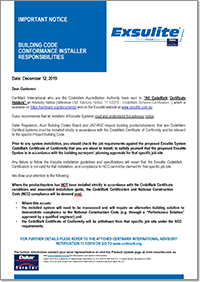 "Prior to any system installation, installers should check the job requirements against the proposed Exsulite System CodeMark Certificate of Conformity that you are about to install, to satisfy yourself that the proposed Exsulite System is in accordance with the building surveyors' planning approvals for that specific job site."
Read the CertMark International Advisory Notice: 11.1/2019 – CodeMark Scheme Certification.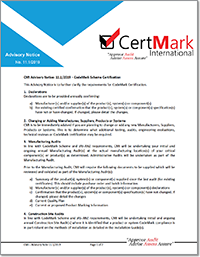 "Installation Guides……
If a building product(s) or system(s) are approved for use based upon their CodeMark Certification and if the installation is not in strict accordance with the CodeMark certificate conditions and associated Installation Guide, then the product(s) or system(s) will be deemed to be outside the scope of their CodeMark accreditation and would have to be reassessed and considered as a Performance Solution under NCC, exclusive of the Certification."
Advisory Notice from CertMark International
CertMark International who are the CodeMark Accreditation Authority, issuing The Exsulite CodeMark Certificate have sent to "All CodeMark Certificate Holders" an Advisory Notice (reference CMI Advisory Notice: 11.1/2019 – CodeMark Scheme Certification) which is available on https://certmark.org/documents/ and here.
Dulux recommends that all installers of Exsulite Systems read and understand this advisory notice.
State Regulators, Aust Building Codes Board and JAZ-ANZ require building products/systems that are CodeMark Certified Systems must be installed strictly in accordance with the CodeMark Certificate of Conformity and be relevant to the specific Project Building Code.
Prior to any system installation, installers should check the job requirements against the proposed Exsulite System CodeMark Certificate of Conformity that you are about to install, to satisfy yourself that the proposed Exsulite System is in accordance with the building surveyors' planning approvals for that specific job site.
Any failure to follow the Exsulite installation guidelines and specifications will mean that the Exsulite CodeMark Certification is not valid for that installation, and compliance to NCC cannot be claimed for that specific job site.