Exsulite Important Notice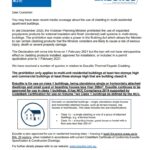 The Declaration will come into force on 1 February 2021 but the ban will not have retrospective effect on cladding products installed, approved for installation, or included in a permit application prior to 1 February 2021.
The prohibition only applies to multi-unit residential buildings at least two storeys high and commercial buildings at least three storeys high that are building class 2-9.
Exsulite is for use on class 1 buildings, being standalone single or horizontally attached dwellings and small guest or boarding houses less than 300m2. Exsulite continues to be approved for use in class 1 buildings. It has NCC Compliance 2019 supported by CodeMark Certification for use on Volume Two Class 1 buildings as defined by the NCC
Exsulite is also approved for use in residential housing class 1 housing in bush fire prone areas up to BAL 29 regions, when installed in accordance with current CodeMark Certificate of Conformity Exsulite Specification & Construction Drawings.